The Foothills
Jan 1980 to Jan 1981

I went west in 1980 and worked at odd jobs during the day while playing at night in Calgary, Alberta. I ended up working with a country act called The Foothills and toured from Manitoba to British Columbia for 12 months.

Red Cedar
Jan 1981 to Oct 1982

When I returned to Ottawa in 1981, I auditioned for Red Cedar who were the back up band for Freddie Dixon at the time and were about ready to go out on there own.
Terry Donahue on Lead Guitar/Keys & Vocals
Tom Valliquette. on Bass/Vocals
David Lemay on Rhythm Guitar/Vocals
Les Lepage on Drums

Special guests :
Tom Wilson on Pedal Steel
Jack Denovan on Keys
I worked with Red Cedar in and around the Ottawa Valley for 18 months. This was a nice tight 4 piece act playing the club circuit, private functions, Fairs etc.. Terry was out of Smiths Falls, Ont. Tom was out of Perth, Ont., Dave and I were out of Carleton Place , Ont. Dave left the band after 4 months or so to focus on his family and studio. I spent a lot of time hitch hiking to gigs with this group as I was without wheels for a spell. Red Cedar played a mix of country and rock n roll. I left the band in Oct 1982 looking to work with an original band wanting to play punk/ska/reggae influenced music.
Though I love playing and singing country music, I really enjoys taking old country songs and playing the crap out of them. One of my major influences in music is Jason And The Scorchers, which is where the cow-punk label seems to have started. I continue to play the crap out of these great old country tunes whenever I get the chance. I also love to play these old standards as they were recorded based on the show I'm playing.

Oct 1982 to Oct 1983
The Credits Live in 1982
Tears On Your Anarach*

The Creditz were a three-piece band that were one of the tightest 3 piece bands in the land. Here I enjoyed playing original materiel I had written and songs by The Clash, The Police, Billy Idol, The Diodes, The Undertones, Lords Of The New Church, The English Beat, The Ramones etc.. We played really fast and most people seemed to like it. Tracy thrashing around, cutting up his right hand most nights from intense playing. Mark running around with a smoke in his mouth wackin' away like crazy and having the time of his life with me keepin' time and holding it all together as this train wants to roll.
Les Lepage on Drums/Vocals and Harmonies
Tracy Clark on Guitar/Vocals and Harmonies
Mark Hall on Bass/Vocals and Harmonies
The Creditz recorded a live 8-track tape, which consisted of 7 tracks. These sessions were recorded and Produed by Kevin Killpatrick who is a good friend of Tracy's and made it all happen. We can't thank Kevin enough for all his time and effort on the sessions. The sessions went early into the morning and were very productive, the odd snag here and there. Everyone got along and it was a pretty exciting time. I found a copy of a copy of a copy of this recording on cassette and will add some of these mp3's to the music page every now and again for your listening pleasure. Tracy Clark introduced me to quite a few punk/new wave/ ska/reggae bands which was just the shot I needed to start writing new material for the band. Tracy and I worked a lot together figuring out melodies, chord changes and the like. I wanted to learn to play more rhythm guitar and Tracy was there to help in any way possible. The band was renting reheasal space in Ottawa's south end and were practicing 20 hours per week for 8 months and played places like The Roxy and The Saucy Noodle in Ottawa. This was my first original band which led me down a different path.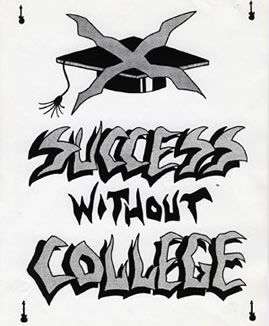 Jan 1984 to Oct 1986
Success Without College
Over The Edge

Formed in Oct 1983 by Tracy Clark and myself after the break-up of The Creditz. The group name "Success Without College" came from the cover of a match pack, which seemed to be everywhere in the mid 80's (free promo). The band played tunes by The Professionals, Wiretrain, Jason & The Scorchers, The Payolas etc…This time around Tracy and I wrote, rehearsed and recorded like never before. We picked up a Fostex X15 4-track cassette recorder and went to work.
Les Lepage on Drums/Vocals and Harmonies
Tracy Clark on Guitar/Vocals and Harmonies
D'Arcy O'Neil on Bass/Vocals and Harmonies
Tracy and I experimented with different sounds, continuing with the hard driving punk influences we'd been introduced to through CKCU FM radio at Carleton University in Ottawa, Ont. Success Without College went into the studio in 1985 at Altair Seven Studios in Lanark, Ont and recorded two originals. Mark Webber produced the 2 tracks (Mark also produced a couple of tracks for us at Trebas Studios, in 1985.) Ken Fraser was at the controls. The two original songs (Over The Edge & City Of Sand) were released to College radio in Canada, where it got a lot of support. CKCU as usual were very supportive of Success Without College. Many thanks to Steve Neil who was the Associate Producer, in other words, he gave us the money for the recording sessions. We can't thank you enough. We continued to record new original material in our own studio in the west end of Ottawa and released a 10-song cassette of original material. This again was released to College radio in Canada and did very well. The band disbanded in 1986 when I had a serious injury, which did not allow me to drum anymore.
The Travelling Troubadours
1986 to1989
She Said
Fade Away
The Travelling Troubadours were formed when I was injured and Tracy would come by and we'd jam away to old country tunes from Johnny, Hank, Buck, and Waylon etc… This lead to me coming full circle to the music I started out playing and listening to when I was a kid living at home. My Mom and Dad were big country and rock and roll fans. My dad played Johnny Cash records while my Mom played Elvis, Jerry Lee, Hank Williams, Patsy Cline & Kitty Wells records. I was a sponge and soaked up all these wonderful sounds. There were some really good vibes over these next few months. A lot of time spent writing & recording. We learned alot more about using less and getting more, it was amzing to me. I love the way you lay down a vocal and guitar track live and then start layering it with more guitars, harps, slide, lead, percussions and this thing starts to grow, it just hit's you where you really feel it. It's hard to explain but to this day when I write something that does something to me, I start recording it, it starts to grow, Wow! There's no other feeling on earth other than hearing it on the radio for the first time.
Les Lepage on Percussions, Rhythm Guitar, Vocals and Harmonies
Tracy Clark on Guitars, Bass, Harp, Vocals and Harmonies

All songs written by Les Lepage except *