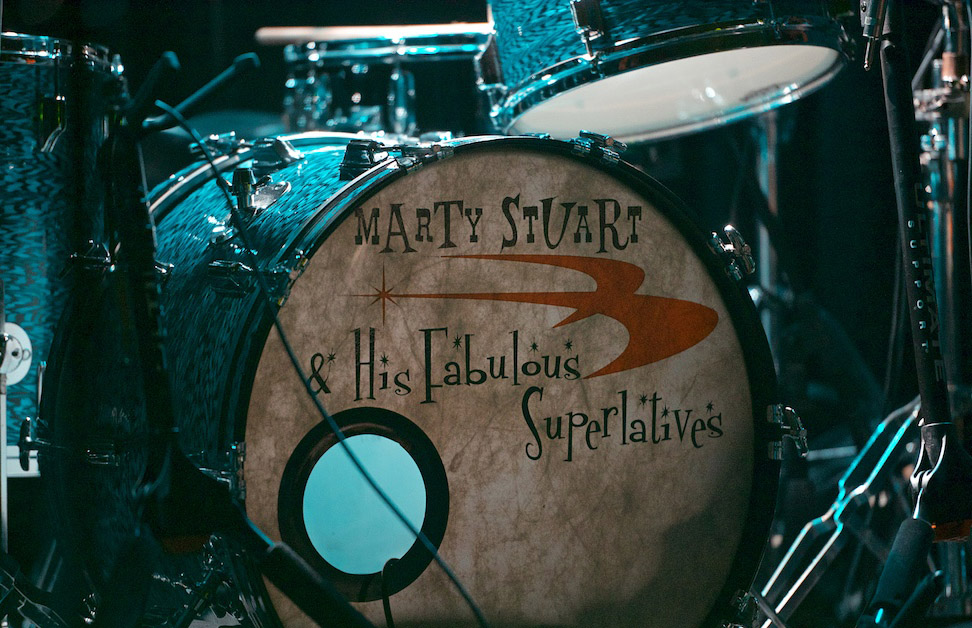 I've been a fan of Marty Stuart's since the first time I saw him on Nashville Now on TNN back in the Fall of 1986. I was drawn to him by his music, his cool Nudie suits and his wicked band. I've had the pleasure of seeing Marty live on four occasion's over the years. Marty doesn't seem to get to Eastern Ontario or western Quebec much these days. He just finished up a tour with The Steve Miller Band with no Canadian dates this past summer. That would have been a hell of a show. Here are some of my thoughts on Marty Stuart and his Fabulous Superlatives, one of the best bands on the planet.Stuart Was born in Philadelphia, Mississippi, of French, Scottish, English, Choctaw, and Colombian descent. From an early age, he was obsessed with country music and taught himself how to play the guitar and mandolin. At the age of 12, Stuart started performing with the bluegrass group The Sullivan Family. He later met Roland White, a member of Lester Flatt's Nashville Grass, and White invited Stuart to play with them at their Labor Day gig in Delaware in 1972. After this, White asked him to join the band permanently and Stuart accepted. This made White responsible for the rest of Stuart's education. Fourteen-year-old Stuart appeared with the band on the season five finale of Hee Haw. Marty stayed with Lester Flatt until Flatt broke up the band in 1978 due to his failing health. In 1979, Flatt died. Stuart pushed forward and worked with fiddler Vassar Clements. He also worked with guitarist Doc Watson. In 1980, he joined Johnny Cash's backing band and appeared in "The Baron" video. The previous year, Stuart made his first solo album, With a Little Help From My Friends, on Ridge Runner Records. In 1982, he released a second album called Busy Bee Cafe on Sugar Hill Records. Both of these releases were bluegrass albums, and they failed to garner any success. In 1983, Stuart married Johnny Cash's daughter, Cindy. They divorced five years later, and had no children. In 1985, Stuart left Cash's band to pursue a solo career.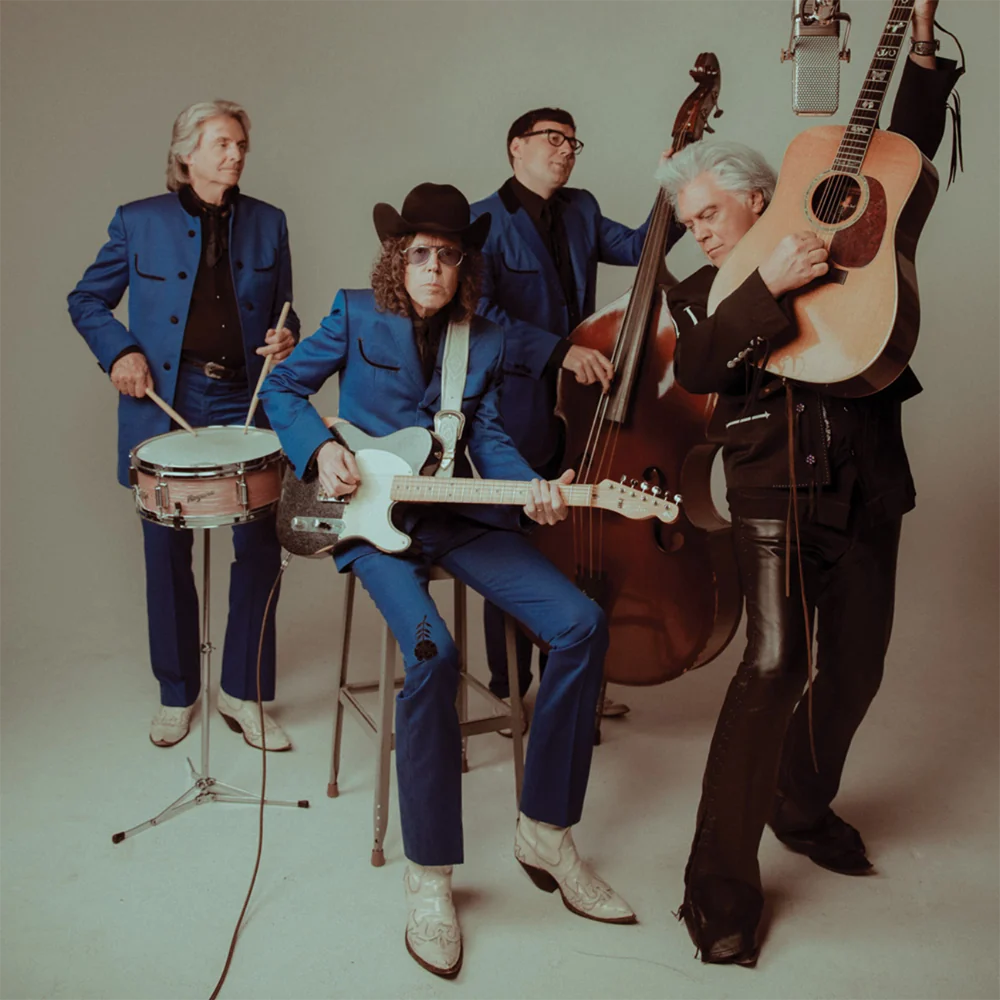 Marty Stuart Announces First New Album In Six Years, 'Altitude,' Out May 19
Country Music Hall of Famer and AMA Lifetime Achievement Award recipient Marty Stuart has announced his new album, Altitude. It will be released on May 19 via Snakefarm. The announcement of his first new album in more than six years finds Stuart on the heels of a string of professional and personal achievements in an already unprecedented career. Late last year, Marty Stuart and His Fabulous Superlatives were inducted into the Musicians Hall of Fame and he celebrated his 50th year in Nashville and 30th anniversary as a Grand Ole Opry member. Recorded in Nashville with his longtime band The Fabulous Superlatives—Kenny Vaughan, Harry Stinson and Chris Scruggs—the collection finds Stuart picking up where he left off on 2017's Way Out West, exploring a cosmic country landscape populated by dreamers and drifters, misfits and angels, honky-tonk heroes and lonesome lovers.
Way Out West
With legends like George Jones, Johnny Cash and Merle Haggard all passed on, country music purists often echo the question Jones himself asked: "Who's going to fill their shoes?" The answer, in part, is Marty Stuart. While he's too gracious to admit it himself, the Grammy-winning singer, songwriter and musician is living, breathing country-music history. He's played alongside the masters, from Cash to Lester Flatt, who discovered him; been a worldwide ambassador for Nashville, Bakersfield and points in between; and safeguarded country's most valuable traditions and physical artifacts. Including its literal shoes: Stuart counts the brogan of Carter Family patriarch A.P. Carter and an assortment of Cash's black boots among his vast collection of memorabilia. But most importantly, Stuart continues to record and release keenly relevant music, records that honor country's rich legacy while advancing it into the future. Way Out West, his 18th studio album, hits both of those marks. Produced by Mike Campbell (of Tom Petty and the Heartbreakers), the album is a cinematic tour-de-force, an exhilarating musical journey through the California desert that solidifies Stuart as a truly visionary artist. Opening with a Native American prayer, a nod to Stuart's affinity for the indigenous people, particularly the Lakota, Way Out West transports the listener to the lonely but magical American West. It is, in its own way, musical peyote. "If you go and sit by yourself in the middle of the Mojave Desert at sundown and you're still the same person the next morning when the sun comes up, I'd be greatly surprised," says Stuart. "It is that spirit world of the West that enchants me." Specifically the promised land of California. Growing up in Philadelphia, Mississippi, Stuart was taken by the mystique of the Golden State: the culture, the movies and especially the music. "Everything that came out of California captivated my kid mind in Mississippi," he says. "It seemed like a fantasy land. Way Out West is a love letter to that." As such, the album could only be recorded there, and Stuart, with his longtime backing band the Fabulous Superlatives, decamped for California. They recorded half of the album at Capitol Records and the rest at Campbell's M.C. Studio, a gritty space with a vibe all its own. Much of the early Heartbreakers music was recorded at Campbell's and that primal rock & roll energy is palpable throughout Way Out West, reinforced by Capitol's own rock history: the Hollywood studio birthed iconic records like the Beach Boys' Pet Sounds and the country-rock of Glen Campbell's Wichita Lineman. Way Out West, with its atmospheric production, evokes those classics, as well as cowboy records like Marty Robbins' Gunfighter Ballads and Trail Songs and Cash's The Fabulous Johnny Cash, one of the first albums Stuart ever owned. "This is a California record, and I knew that when I emerged from the studio at night, I wanted to see palm trees and breathe that desert air," says Stuart.
Listeners too can feel the warmth of those Santa Ana winds over the album's 15 tracks, a collection of newly written originals, instrumentals and rare covers like the Benny Goodman-penned "Air Mail Special," and "Lost on the Desert," once recorded by Johnny Cash. "I asked Johnny about that song when I was in his band, and he said the only thing he remembered about it was changing some words," laughs Stuart. "But Way Out West just as easily could have been titled Lost on the Desert." The idea of losing oneself runs through Way Out West, with the title track both a spiritual adventure and a cautionary tale — Stuart wraps up the travel ballad with a spoken aside about his own bad trips with pills. "I researched that for 30 years," he jokes, self-deprecatingly. "There's a lot of truth in that song." The rollicking standout "Time Don't Wait" also offers a warning: to not let life race by. "As the dirt fell through my fingers / the wind it seemed to say / don't put off until tomorrow, what you can today," sings Stuart. "That's just country wisdom. I can't claim that. But I like when you can talk about the simple things that are around us. That makes country music come to life for me," he says. When it comes to transforming country songs into tangible experience, Stuart has a secret weapon: the Fabulous Superlatives. Made up of guitarist Kenny Vaughan, drummer Harry Stinson and new member, bassist Chris Scruggs, the Superlatives are an extension of Stuart himself.
"The Superlatives are missionaries, they're fighting partners. They're my Buckaroos, my Tennessee Three, my Strangers. They're my legacy band and have been since Day One," says Stuart. Along with the playing of Mike Campbell, who contributed guitar, B-3 organ and piano, the Fabulous Superlatives are all over Way Out West and ensure that the mystical detours Stuart explores always remain of the moment. As Stuart himself will tell you, he often ventures off the reservation — in a way, his entire career has been "way out west." While other artists chased popular trends in the name of radio play, he formed complete bodies of work, not unlike the greats he idolized. Way Out West is just the latest embodiment of that creative mission. "I would play this record for Hank Williams, Merle Haggard or Ernest Hemingway and never bat an eye," says Stuart. "There's something in there that would entertain each of them." But Stuart also made Way Out West for those who come after. As he sees it, there is no greater responsibility in music than to share what you've learned. "Lester Flatt saw something in me and gave me his wisdom, wit and music. Johnny Cash was my best friend. But all of that doesn't come for free. The job is to pass it along," says Stuart, stretching out his arms. "That's the way it's supposed to be in country music." With Way Out West, Stuart holds up his end of the deal.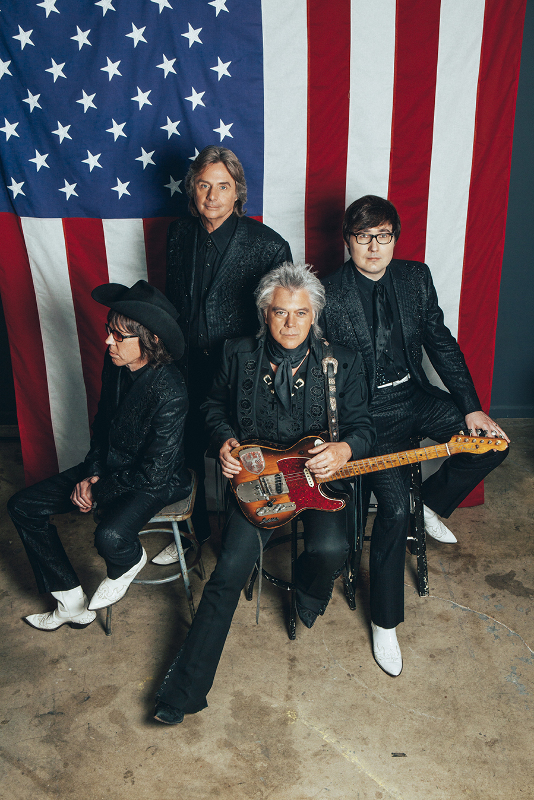 Marty Stuart and his Fabulous Superlatives line-up over the years
Band members include:
May 2002 saw Marty touring with a brand new band he named The Fabulous Superlatives. And Superlative they are. Kenny Vaughan guitar & harmoniesHarry Stinson on drums & harmoniesPaul Martin on bass & harmoniesThe Fabulous Superlatives, Marty Stuart's band since 2002, includes him on guitar and mandolin, Kenny Vaughan on guitar, and Harry Stinson on drums, and from 2002 until 2008, Brian Glenn on bass. From 2008 until 2015, Paul Martin was on bass. In 2015, Chris Scruggs replaced Paul Martin on bass. These are seasoned session players and have performed with the top artists in country and alternative music. Chris Scruggs has accompanied every great singer in Nashville. Along with Marty, they form a top-knotch group of musicians.
Marty Stuart and his Fabulous Superlatives – 2015 – present
Kenny Vaughan – Lead and acoustic guitar
Harry Stinson – Drums and background vocals
Chris Scruggs – Electric, acoustic, steel and bass guitars, and background vocals.
Kenny Vaughan
When considering the performance of his 2011 debut album, V — a record that serves a roots-savvy menu of traditional country, Americana and more — Kenny Vaughan offers a kind of conditional optimism: "It's done quite well for an unknown guy like me." If you were to gauge Vaughan's success with mainstream audiences only by name recognition, such an appraisal might seem spot-on. But chances are good that you have heard his expert guitar playing whether you know it or not. For more than a decade, Vaughan has been one of the Fabulous Superlatives, the white-hot band that backs country star Marty Stuart. Before that, he toured extensively with Lucinda Williams as she promoted her career-defining album, Car Wheels on a Gravel Road. And if you were a regular at the defunct Lynagh's Music Club during its alt-country heyday, you might have caught Vaughan supporting soon-to-be songwriter celebs Allison Moorer and Kim Richey. "I wanted my record to be versatile, but I also didn't want it to get too far outside of something your average Marty Stuart autograph-table customer might like," he said. "I didn't want them to take it home, put it in the player and go, 'Whoa, what is this?' And that could have easily happened. "Marty has been on me for a while to do this. He said. 'You're losing money by not putting out your own CD. They could be flying off the (concession) tables at the shows.' So that's why I made a conscious effort to keep Marty's audience in mind a little bit and not stray too far out of my comfort zone with the record." Still, the music on V — which features Stuart and the other Fabulous Superlatives (bassist Paul Martin and drummer Harry Stinson as the core band) covers a lot of country ground. The opening Country Music Got a Hold on Me is rife with the Bakersfield, Calif., accent of Buck Owens; the instrumental Wagon Ride recalls the great Byrds guitarist Clarence White; and Mysterium, another instrumental, sounds like Merle Travis sitting in after hours with soul maestros Booker T and the MGs. Such inspirations represent only a fraction of the sounds Vaughan, an Oklahoma native who grew up in Denver, was exposed to as a youth. From his dad's record collection, he picked up on jazz. Through TV, he heard The Beatles. Through records by the likes of The Rolling Stones, he gained an appreciation of the blues. And when it came to furthering his own guitar abilities, Vaughan had the benefit of a teacher who, in short order, would go on to become one of the country's great guitar innovators: Bill Frisell. "I remember walking into my local music store and there was this guy playing guitar in the corner," Vaughan said. "I walked up to the owner and said, 'Man, who is that guy? He sounds great.' And the owner said, 'Oh, that's Bill, my new guitar teacher.' I said, 'Sign me up now.'"
But it would be Williams who would give audiences their first serious dose of Vaughan's guitar abilities. And for Vaughan, it was the three-year stretch he spent on the road with the Grammy-winning songwriter that gave him his most far-reaching touring experience. "I knew Lucinda before I worked with her. And I was also familiar with her guitar player back then, Gurf Morlix. He was like her Keith Richards. When Lucinda first called me to work for her, I was fortunately not available. I say that only because I didn't want to be the guy who replaced Gurf. But then she called six months later. "While I was with Lucinda, she went from playing to a small cult to a large cult. That was because of Car Wheels on a Gravel Road. We wound up doing shows with Tom Petty and the Heartbreakers, with Bob Dylan and Van Morrison. It was incredibly fun to be in that world and work with someone so intently devoted to their own songs. She was such a strong artist with that record." With the Williams tenure behind him and a reputation mounting as one of Nashville's most in-demand session guitarists, the call came to play quartet country with Stuart.
"I didn't know what that was going to lead to," Vaughan said. "Turned out to be the greatest thing I've ever been involved in. We're just a four-piece band, but the whole thing is so incredibly rich musically. Marty is as much a fan of country music as he is a performer. And he's one hell of a performer. "What I do on my own is a side project, really, compared to what I do with Marty. That's the top priority of everyone in the band. We're firmly committed to being Fabulous Superlatives."

Harry Stinson
A Grammy-nominated multi-instrumentalist, Harry Stinson is one of the top session drummers and vocalists in Nashville. A quadruple creative threat – drummer, producer, writer, and singer – Harry has worked with major names in pop, rock, country, and bluegrass. Peter Frampton, Elton John, Bob Seger, Leon Russell, Lyle Lovett, Steve Earle, Bette Midler, Faith Hill, Patty Loveless, George Jones, Marty Stuart, Neil Diamond, and Earl Scruggs are just the start of a very lengthy list. Then there has also been TV and film recording for the likes of Silent Rage, The Rose, Cheers and The Fox and the Hound 2. Grand Ole Opry star Dottie West gave him his first professional job in summer of 1970. Working the road in package tours with Red Sovine she took him to the Opry stage where he rubbed shoulders with all the greats, including Porter Wagoner and Dolly Parton, both of whom he would record with years later. His first big break came in 1974 when, with the tune 'Tin Man' topping the charts, the band America needed a drummer to sub for an ailing Willie Leacox. Within 24 hours and knowing only "Horse With No Name," he played their show in front of thousands of fans with Willie holding a flashlight on his hastily made charts. This led Harry to California, where he joined the country/rock band Silver, a band signed to Arista Records. The group managed one top 20 hit in 1976, "Wham Bam Shang a Lang," and after a couple of years they disbanded leaving Harry to hone his recording skills further by playing with Jay Ferguson, Al Stewart, Etta James, and Peter Frampton (that's Harry on the 'Out of Control' album). Besides playing for television, he appeared in Bette Midler's The Rose as well as contributing background vocals for Juice Newton on her first two albums, Juice, and Quiet Lies. That's Harry singing on "Love's Been A Little Bit Hard on Me." After ten years in Los Angeles, and while on an exploratory trip back in his hometown of Nashville, Harry ran into an old friend Timothy B. Schmidt, who was at the time recording with Jimmy Buffett. Timothy lobbied for Harry to help out with the background vocals. That weekend, Harry sang on Jimmy's Last Mango in Paris, an album that was being co-produced by legendary producer, Tony Brown. Tony immediately took Harry under his wing and introduced him to another singer/songwriter he had just signed to MCA, Steve Earle. Just a few months later in 1985, after moving his family back in Nashville, Harry played drums and sang on Steve Earle's groundbreaking album Guitar Town. Harry joined Steve's band, and spent two years performing as a Duke. Tony also enlisted Harry to play and sing on Lyle Lovett's classic, Pontiac. Immediately he became an in-demand session player and singer, but continued to expand his career into songwriting and producing. As a songwriter, Harry's first appearance on the charts was the top five hit "Let It Be You," recorded by Ricky Skaggs. He's had works recorded by Faith Hill, and Wynonna Judd among others, and finally achieved his first number one hit with "Wild Angels," recorded by Martina McBride. He also hit pay dirt producing a number one for Trisha Yearwood's "XXX's & OOO's." That event came about while Harry was musical director and composer for Brandon Tarticoff's TV pilot of the same name. In addition to all that time in the studio, Harry was part of TNN's American Music Shop house band and continued to serve as music director for many hours of network and cable music shows. During the 1990's hardly an hour went by on the radio that didn't have some sort of contribution by Harry Stinson. In the mid-nineties, Harry helped found Nashville's premier artist run independent label, Dead Reckoning Records with fellow artists Kieran Kane, Kevin Welch, Tammy Rogers and Mike Henderson. He produced and performed on most of the first wave of recordings and also performed live with their "revue" known as The Dead Reckoners. Dead Reckoning was indeed one of the founding cornerstones of a brand new format soon to be known as Americana music. In the late nineties and in early 2000, two events came about that continued to propel Harry. While performing with the Dead Reckoners at the Edmonton Folk Festival, Harry was introduced to Canadian singer songwriter Corb Lund and Corb's handful of rootsy tunes. They spent two days in the studio, which began a successful four album run, along with countless Juno awards, and a CCMA award for best Country Album for Hair in my Eyes Like a Hyland Steer. Harry helped Corb and his band, The Hurtin Albertans become not only a Canadian sensation, but also a worldwide phenom. The other event was a call from long time friend, Marty Stuart, who wanted to start a new band. Harry had contributed to some of Marty's early hits like "Tempted," and "Burn Me Down," and together with guitar-slinger Kenny Vaughan and bass man Paul Martin the Fabulous Superlatives were formed. Besides touring and recording together, the Superlatives have been a four man powerhouse that is committed to preserving the art of traditional, hard hitting country music. The band hit the TV airwaves with The Marty Stuart Show, which has produced over 130 episodes showcasing the versatility of the band alongside artists such as Merle Haggard, Sheryl Crow, Connie Smith and Willie Nelson. Harry continues to perform with the Fabulous Superlatives as well as write, produce and record expanding his already lengthy discography. "From the time I started in the early 70's," says Harry, "I have followed a creative spirit that has led me into all types of situations. I have always embraced challenge, and it has made be a better player, and ultimately a more rounded and successful musician."
Chris Scruggs
Is an American singer, songwriter, and multi-instrumentalist who plays a variety of instruments including guitar, steel guitar, bass, mandolin, fiddle, and drums. He is the only child of singer Gail Davies and songwriter Gary Scruggs. Born Christopher Alan Davies-Scruggs in 1982, Scruggs is rooted within a musical family. His maternal grandfather is the late country singer Tex Dickerson and his paternal grandfather is bluegrass banjo player Earl Scruggs. Scruggs joined the country band BR549 in 2002 playing guitar and serving as the co-lead singer. While in the band, he wrote and performed the title track of their 2004 release, Tangled in the Pines. Scruggs remained in BR549 until 2005 when he left the band to pursue a solo career. Scruggs released his first solo album, entitled Anthem, in 2009 on Cogent Records. Scruggs produced the album and wrote 11 of the 12 songs; Ron Davies, Scruggs's uncle (best known for having penned "It Ain't Easy" for David Bowie) wrote the remaining song. As a side musician, Scruggs has played behind many notable artists including Charlie Louvin, Andrew Bird, Ray Price, Robbie Fulks, Jools Holland, Giant Sand, Peter Noone, Bobby Bare, M. Ward, Michael Nesmith, She & Him, Billy Walker, Suzy Bogguss, and Marty Stuart. Scruggs is currently the bass guitarist in Marty Stuart's Fabulous Superlatives band, taking over for Paul Martin in 2015. It's hard to put a label on a multi-talented artist like Chris Scruggs. The Washington Post aptly described him as "part John Lennon pop and part Milton Brown western swing with a little bit of White Stripes edginess." Shades of the British Invasion march over soundscapes one would usually find in southern dance halls as vibes, guitars and fiddles weave through the stitching of a beautifully conceived record. This effortless eclecticism is to be expected from a musician with Chris Scruggs' reputation. Having recorded in the past with a wide array of artists, including M. Ward, Ray Price, Neko Case, Andrew Bird, Justin Townes Earle, Hank 3, Amy LeVere, George Jones, Elvis Costello and Charlie Louvin, the story of Chris Scruggs is one of an artist completely immersed in music. Chris Scruggs' life has been a whirlwind of experience, giving this fresh faced multi-instrumentalist a sense of musicality not normally found in someone his age. His youthful maturity is perfectly captured in the delicate waltz "Old Souls Like You And Me," the hook heavy jangle of "Windows" and the nihilistic optimism of "Running From The Graveyard." In addition to the typical role of guitar slinging singer/songwriter, Chris Scruggs is also a master steel guitarist, playing his instrument without pedals. An all but lost art form, Chris does what he can to promote this evanescent style, preserving the older techniques and developing new ones that fit his own musical needs. Often, illusions of a string quartet grace the grooves of Anthem, while the steel guitar of Chris Scruggs sings from behind the curtain.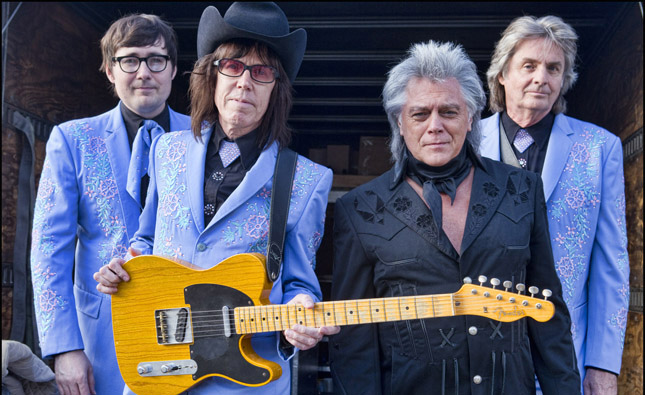 Byrds co-founders Roger Mcguinn and Chris Hillman celebrate the 50th anniversary of "sweetheart of the rodeo" with special tour featuring Marty Stuart and his Fabulous Superlatives
On the 50th anniversary of their groundbreaking album, Sweetheart of the Rodeo, Byrds co-founders, Roger McGuinn and Chris Hillman will perform the album in its entirety and tell the stories that brought the album to life. They will also sing some other favorites from their long recording careers. The tour will stop in cities across the country including New York, Nashville, Los Angeles, Albany, and Akron and kicked off with a short performance of a few songs from Sweetheart of the Rodeo at Marty Stuart's Late Night Jam on June 6th at the Ryman Auditorium in Nashville. McGuinn and Hillman will be joined on stage for the tour by country legends Marty Stuart and His Fabulous Superlatives. Stuart himself plays the famous 1954 Fender Telecaster originally owned by legendary country-rock pioneer Clarence White, a performer on Sweetheart of the Rodeo. Marty Stuart said about the influence the album had on him: "The Bryds' Sweetheart of the Rodeo recording stands as a milestone in American music. I bought my first copy of the record in 1972. Upon my first listen, I was mesmerized at the effect of the combined power Country music, Rock & Roll, Bluegrass, Gospel and Folk music had on me. From that day forward, I considered Sweetheart of the Rodeo a blueprint as to how I should live my musical life. It is truly an honor for me and the Superlatives to get to go out and play music from Sweetheart with Roger and Chris. We love and greatly admire both of them and I have to believe this is a show not to be missed." Stuart also recently confirmed that he will bring his eclectic blend of rockabilly, honky-tonk, and traditional country music to The Guest House at Graceland Theater on June 9th. On that day, Stuart will also participate in a ribbon cutting ceremony for a new exhibit filled with artifacts from Stuart's personal collection that traces the country music roots of rock 'n' roll. The new "Hillbilly Rock" exhibit is part of the Elvis Presley's Memphis™ entertainment and exhibit complex. Full details about the performance and ribbon cutting are available here. On April 21st, as part of Record Store Day 2018, Marty Stuart and His Fabulous Superlatives released Way Out West – Desert Suite (Trip One) as a limited edition 12" LP. (Trip One) is the first in a series of Desert Suite releases and includes some of the band's favorite collaborations and B-Sides. Recently Stuart announced thirty-six dates on Chris Stapleton's "All-American Road Show" tour throughout 2018. Stuart and his band will serve as direct support for Stapleton's arena dates including St. Louis, Seattle, Los Angeles, Chicago, & New York City, and tickets for these shows are on sale now, and available here. Stuart and his band recently won the award for "Duo/Group of the Year" at the Americana Music Association's 16th Annual Americana Honors & Awards. Previous winners of this prestigious award include The Avett Brothers, Drive-By Truckers, and Emmylou Harris & Rodney Crowell. In 2005 the Americana Music Association awarded Marty Stuart with the Lifetime Achievement Award for Performance. Marty Stuart is a five time GRAMMY-winner, platinum recording artist, Lifetime Achievement Award recipient from the Americana Music Association, Grand Ole Opry star, country music archivist, photographer, musician, and songwriter. Since starting out singing gospel as a child, Stuart has spent over four decades celebrating American roots music. His teenage years on tour with bluegrass legend Lester Flatt in the '70s were followed by six years in Johnny Cash's band in the '80s, and a chart-topping tenure as a solo artist in the '90s. Stuart hosts a Late Night Jam at The Ryman, a yearly tradition which kicks off the CMA Music Festival, with recent guests including Dolly Parton, Jerry Lee Lewis, Neko Case, Eric Church, Chris Stapleton, Maren Morris, Dan Auerbach and many more.Source: https://martystuart.net
I continue to listen to the wonderful tracks these guy's put out and how they can find that feeling they get to record to tape. These guy's can play anything you throw at them as they are all top notch musicians and have been paying their dues for decades.
Keep Rockin' boy's.
Marty Stuart and his Fabulous Superlatives – Time Don't Wait (Live on KEXP)
Marty Stuart on Meeting Johnny Cash (Interview Clip)
Marty Stuart: The Story of Clarence White & The Parsons/White StringBender | Reverb Interview