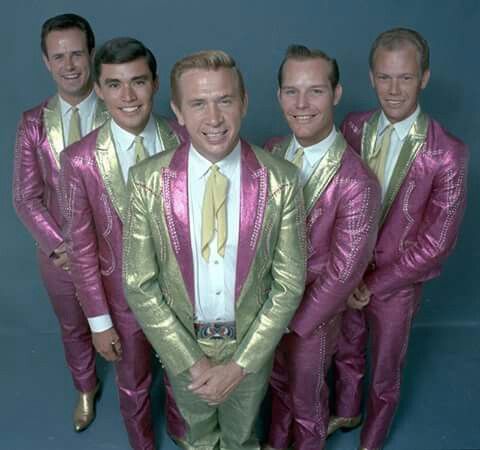 Alvis Edgar Owens Jr. was born in 1929 outside Sherman, Texas, the son of a sharecropper. With opportunities scarce during the Depression, the family moved to Arizona when he was 8.
He dropped out of school at age 13 to haul produce and harvest crops, and by 16 he was playing music in taverns.
Owens started recording in the mid-1950s, but gained little success until 1963 with "Act Naturally," his first No. 1 single.
His career was one of the most phenomenal in country music, with a string of more than 20 No. 1 records, most released from the mid-1960s to the mid-1970s.
They were recorded with a honky-tonk twang that came to be known throughout California as the "Bakersfield Sound," named for the town 100 miles (160 kilometers) north of Los Angeles that Owens called home.
"When people start looking back on his career, they are going to be surprised by the number of things he did first," said guitarist Roy Clark, who worked with Owens on "Hee Haw." "He left a great legacy in country music."
Owens, elected to the Country Music Hall of Fame in 1996, was modest when describing his aspirations.
"I'd like to be remembered as a guy that came along and did his music, did his best and showed up on time, clean and ready to do the job, wrote a few songs and had a hell of a time," he said in 1992.
An incredible performer, Owens played a red, white and blue guitar with fireball fervor. He and the Buckaroos wore flashy rhinestone suits in an era when flash was as important to country music as fiddles.
Among his biggest hits were "Together Again" (also recorded by Emmylou Harris), "I've Got a Tiger by the Tail," "Love's Gonna Live Here," "My Heart Skips a Beat" and "Waitin' in Your Welfare Line."
And he was the answer to this music trivia question: What country star had a hit record that was later done by the Beatles? "Those guys were phenomenal," Owens once said.
Ringo Starr recorded "Act Naturally" twice, singing lead on the Beatles' 1965 version and recording it as a duet with Owens in 1989. The song, by Johnny Russell and Voni Morrison, tells of a poor soul who foresees a movie career playing "a man who's sad and lonely, and all I gotta do is act naturally. … Might win an Oscar, you can never tell."
In addition to music, Owens had a highly visible TV career as co-host of "Hee Haw" from 1969 to 1986. With Clark, he led viewers through a potpourri of country music and hayseed humor.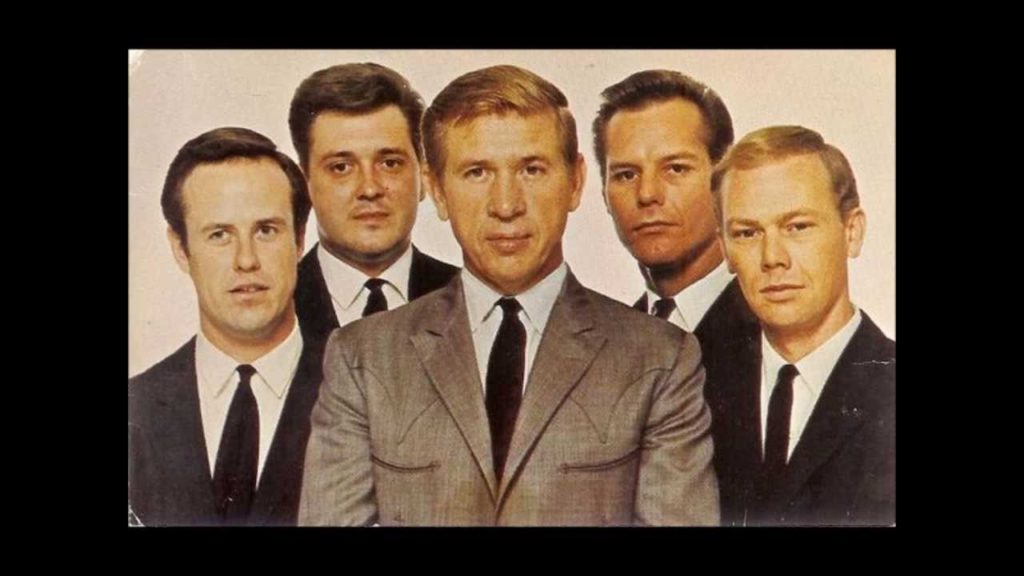 American music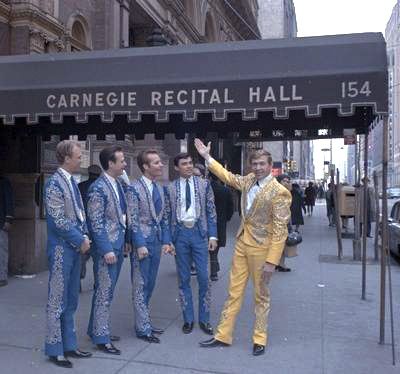 Owens himself could be rebellious, choosing among other things to label what he did "American music" rather than country.
"I took a little heat," he once said. "People asked me, `Isn't country music good enough for you?' "
He also criticized the syrupy arrangements of some country singers, saying "assembly-line, robot music turns me off."
After his string of hits, Owens stayed away from the recording scene for a decade, returning in 1988 to record another No. 1 record, "Streets of Bakersfield," with Dwight Yoakam.
My Top Ten Buck Owens songs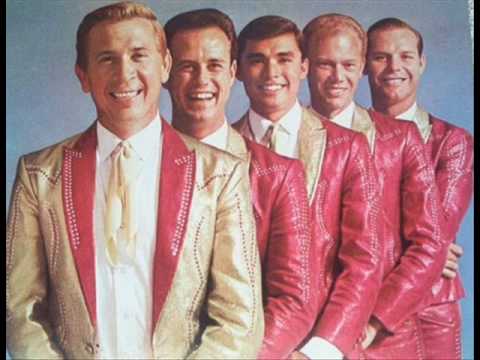 With his crisp, stylized vocals and crackling backup from The Buckaroos, Buck Owens put a strong stamp on any song he tackled. Don Rich was his right hand man who could sing and play his Fender Telecaster like no other. Buck Owens was also a great guitar player who started out as a studio musician in the 50's.
Foolin' Around (1961): Great track from Buck Owens first release in 1961.
I Don't Care (Just as Long as You Love Me) (1964): Buck and the Buckaroos have a good time with this one.
Hello Trouble (1964): Not Buck's song originally but an album track that captures his rollicking –with The Buckaroos.
Together Again (1964): Buck Owens takes us to a tough place with this somber song of love and lost.
I've Got a Tiger by the Tail (1965): Like Act Naturally, a candidate for the song you'd pick if you had just one to define the Buck Owens sound.
Buckaroo (by The Buckaroos, 1965): For the boys in the band; this track always brings me back to a simpler time and a country instrumental at its best.
Who's Gonna Mow Your Grass (1969): Anyone who thinks Owens is musically one-dimensional hasn't heard this adventurous hit, on which he nimbly adapted the rock guitar textures of the era to country.
I Wouldn't Live in New York City (If They Gave Me the Whole Dang Town) (1970): A mission statement for his country constituency, and funny besides.
Streets of Bakersfield (duet with Dwight Yoakam, 1988): How great was it to hear classic Buck on the radio again in '88?
Under Your Spell Again (1968): Great shuffle.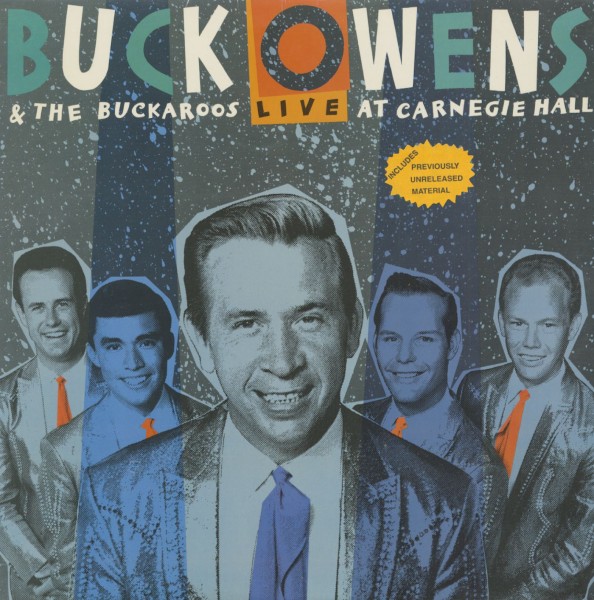 Buck Owens & The Buckaroos
Live at Carnegie Hall
March 26th, 1966
The boy's that make up The Buckaroos
(original members of the Buckaroos in the 60's):
Don Rich, Lead guitar, fiddle, harmonies.
One of the greatest guitar players of my lifetime.
Don Rich used primarily Fender guitars and amplifiers In the early days, Rich would play Owens' 1951 Fender Telecaster through a Fender Bassman amplifier. In 1964, Fender gave Owens an endorsement deal and the band gained instruments. Rich received a Telecaster that had both its body and headstock finished in champagne metal flake in addition to having checkerboard binding on both sides of the guitar's body. The band received other Fender amplifiers as well, and so Rich also played through a Twin Reverb amplifier. At some point Don had a 1 off Tele-ish Red Mosrite that is now in possession of the Owens estate. The "champagne metal flake" finish was rough because it contained crushed glass. Not sure if Don and Roy Nichols played these guitars close to fretlessness or if Semie or Moles deliberately ground down the frets for "speed". Buck's "51" Tele which is no longer on Display at the Crystal Palace showed significant signs of being artist and not luthier maintained; for example pieces of paper under strings at the nut in slots that were slotted to deep. Owens and Rich received new guitars in 1966, a pair of Silver Flake Telecasters that were double bound in plain black. Also around 1966, Owens had Bakersfield guitar repairman/technic Gene Moles finish another set of guitars in Red White and Blue. Fender would also give Rich a Gold Sparkle Tele in the late 1960s that was bound in plain black. It had no finish on the headstock.
Fender's deal with most of their artists was that they would exchange their instruments for new ones every seven years, or so. Owens refused to return the instruments given to them by Fender, so Fender stopped giving them instruments. Gibson picked up on this and in the early 1970s they struck up a deal with Owens. Rich received an ES-335 as well as a Les Paul Professional model.
Owens and Rich would later go back to playing their red, white and blue Telecasters.
Don's harmonies were second to none as far as I'm concerned and Buck was thankful he found Don.
On July 17, 1974, after finishing work at Owens' Bakersfield studio, Rich was killed in a motorcycle accident. He had been en route to join his family for vacation on the central coast of California. For unknown reasons, his motorcycle hit a center divider on northbound Highway 1 at Yerba Buena Road in Morro Bay. He was pronounced dead on arrival at the then Sierra Vista Hospital in San Luis Obispo at 10:55 that evening, 50 minutes after the incident was reported. California Highway Patrol officials stated that there were no skid marks and no apparent mechanical problems. Reports indicated that Owens had pleaded with Rich not to take his motorcycle that day and had been pleading with him for years to quit riding. Owens was devastated by Rich's death and did not discuss it in interviews for years. In a late 1990s interview, Owens said, "He was like a brother, a son, and a best friend. Something I never said before, maybe I couldn't, but I think my music life ended when he died. Oh yeah, I carried on and I existed, but the real joy and love, the real lightning and thunder is gone forever." Don was 32 years old.
Doyle Holly, Bass
Holly was playing with Joe Maphis in 1963 when he was asked by Don Rich to fill in as bassist for the Buckaroos. The spot became his permanently after Merle Haggard left the group, and the Buckaroos began their most creative and successful period, from 1963 to 1971. The group had more than 30 singles in the country music top 40 in that time, of which more than half went to No. 1. "Act Naturally," a No. 1 single for the Buckaroos in 1963, was covered by The Beatles on their 1965 album Help! Other hits included "I've Got A Tiger By The Tail," "Together Again," and "Love's Gonna Live Here," which occupied the top position on the country chart for 17 weeks near the end of 1963.
The Buckaroos recorded a live album, Carnegie Hall Concert in 1966, which Holly said was his favorite recording as a Buckaroo. At the time, it was only the second album recorded at Carnegie Hall by a country music group, and it is widely regarded as one of the best live albums in country music history. The fans showed up at the Carnegie Hall Concert in New York City in their tuxedos and evening gowns. The concert had been oversold and the venue was packed with fans, many sitting in the aisles. During the Carnegie Hall concert, the Buckaroos returned a favor to The Beatles and played "Twist and Shout" while wearing Beatles wigs.
Holly and the Buckaroos toured widely in North America and Europe in the 1960s. During the band's peak of popularity in the mid to late 1960s, it seemed like everyone was a Buckaroos fan including the Beatles, who, it is said, had a standing order for all new Buck Owens and the Buckaroos records to be forwarded to them in England. While on tour in London in 1969, Holly, Owens and Don Rich met up John Lennon and Ringo Starr. Holly recorded seven albums with The Buckaroos from 1968-1970 without Buck Owens, all of which were chart topping records. The Buckaroos albums contained instrumentals along with Holly and Don Rich sharing the role of lead vocalists, each having solo songs on every album. The band won a number of awards, including Grammys and CMAs (Country Music Awards). While Holly was with The Buckaroos they were nominated as "Band Of The Year" seven consecutive years from the Academy of Country Music from 1965 to 1971, winning the award four years in a row from 1965-1968. They were also nominated as "Instrumental Group of the Year" for five consecutive years from 1967-1971 by the Country Music Awards, winning twice in 1967 and 1968.
In 1968, Buck Owens and the Buckaroos recorded a live album when they performed at the White House for President Lyndon Johnson. They served as the house band for the American television variety show Hee Haw, and for Owens' syndicated television show, Buck Owens Ranch House, from 1966 to 1972. Holly was nominated several times as "Bass Player of the Year" award from the Academy of Country Music, and he received the award in 1970.
Tom Brumley, Pedal Steel
With Owens from 1963 until 1969, Brumley was featured on recordings including "Act Naturally", "I've Got a Tiger By the Tail" and "Together Again". His performance on "Together Again" has been considered "one of the finest steel guitar solos in the history of country music", as described in an obituary by Country Music Television. His unique steel guitar sound was known as "The Brumley Touch" and he was recognized by the Academy of Country Music as the top steel guitarist.
Rick Nelson lured Brumley to play on his album In Concert at the Troubadour, 1969, accepting on a commitment that he would only do four shows with Nelson, but ended up performing with him for a decade. In a 2005 interview, Brumley called it "a godsend being asked to join Rick's band, and I still think "Garden Party" was a highlight of my recording career".
He spent three years with Chris Hillman and The Desert Rose Band during the early 1990s. He also performed or recorded with artists including Glen Campbell, Guthrie Thomas, Merle Haggard, Dwight Yoakam, Chris Isaak, Waylon Jennings, Martina McBride, Reba McEntire, Ray Price and Rod Stewart. Brumley was inducted into the Texas Steel Guitar Hall of Fame, the International Steel Guitar Hall of Fame, and the Missouri Country Music Hall of Fame.
Brumley died at age 73 on February 3, 2009, at Northeast Baptist Hospital in San Antonio, Texas, a little more than a week after experiencing a heart attack. He was survived by his wife of 48 years, Rolene, two sons, a daughter, six grandchildren and a great-grandson.
Willie Cantu, Drums
Originally from Corpus Christi Texas, one of the most defining moments in Willie Cantu's music career was at the young age of 17 when he became an original member of the Buckaroos led by Buck Owens in the 1960's. During the three and a half years Willie performed and recorded with Buck Owens, the band earned numerous awards that included Grammys and CMA's. In 1966, Buck Owens and the Buckaroos were only the second country act to have appeared at Carnegie Hall.
Willie has always been an avid fan of jazz and jazz drumming. During a visit on tour with Buck, Willie had the rare privilege to meet and hang with the great Tony Williams as well as many other jazz greats.
After leaving Buck in late 1967, Willie married a canadian moved to Toronto were he got more involved in performing in jazz groups like the Pharoah Sanders Quartet. Shortly thereafter, Willie moved to San Francisco were he continued his education in all things percussion.
He became the house drummer at the Nashville Palace from 1989 to it's closing in 2005.  Willie continues to teach privately and perform locally in Nashville.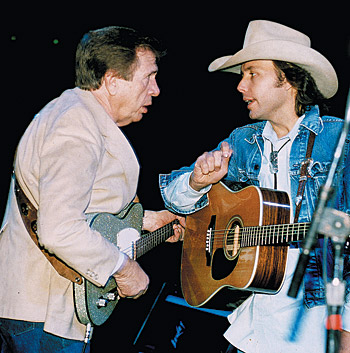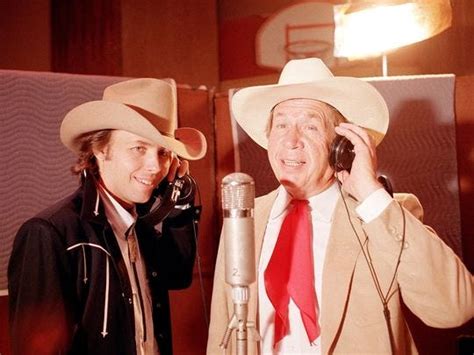 Buck Owens shaped sound of country
Buck Owens, arguably as much as any artist, built the musical foundations for modern country music.
He was as big a star as country produced in the '60s, racking up 20 No. 1 hits and 14 other top 10 records. It was Owens' hit Act Naturally that became Ringo Starr's Beatles showcase, and Ray Charles covered the country star's classics Cryin' Time and Together Again.
Powered by the crisp guitar licks of the late Don Rich and the driving rhythms of backing band The Buckaroos, Owens' hits jumped out of the radio, contrasting with the strings-laden Nashville productions of the era. Owens was the driving force in establishing his home base, Bakersfield, as the only serious modern rival to Nashville's grip on country music, as he, protégé Merle Haggard, Wynn Stewart and Tommy Collins saturated radio airwaves.
Although Owens cooled off on the charts by 1974, cutting such novelties as On the Cover of the Music City News, Monsters' Holiday and You Ain't Gonna Have Ol' Buck to Kick Around No More, a parallel career made him even more widely known to the American public at large: He co-hosted the country comedy series Hee Haw from 1969 to 1986.
That role unfairly pigeonholed him in many people's eyes, but his musical reputation was restored in 1988 when a duet with then-hot new star Dwight Yoakam, Streets of Bakersfield, became Owens' first No. 1 hit in 16 years.
Yoakam was an avid Owens booster ("I will cherish forever the musical moments he graciously shared with me during his life," Yoakam told the Associated Press) and helped fire him up to take one last whack at the country charts in 1989, when he had minor hits with Hot Dog, a rockabilly tune he had cut as Corky Jones in the '50s, and a duet on Act Naturally with, fittingly, Ringo Starr.
Not that he needed the royalties — Owens was successful in real estate and radio. In recent years, Owens played regular gigs at his Crystal Palace club in Bakersfield, the last one Friday night.
In 1965, Owens caused a stir by pledging in the Music City News, "I shall sing no song that is not a country song." A month later, he released an album that included a cover of Chuck Berry's Memphis, and in 1969 he had a hit with Berry's Johnny B. Goode and the decidedly folk-rocking Who's Gonna Mow Your Grass.
But he wasn't contradicting himself: Owens was one of those rare musicians whose style was so distinctive and definitive that everything he recorded became a Buck Owens song.
Christmas with Buck Owens and his Buckaroos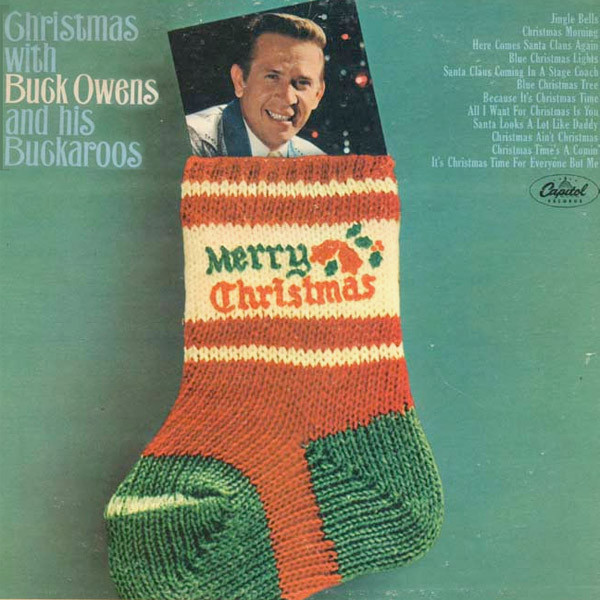 I have to say a few words about my favourite Christmas album of all time. The album is called "Christmas with Buck Owens and his Buckaroos" My parents bought this album in the late sixties and we played it every Christmas. I purchased the original album at a record kiosk at the Stittesville Flea market in 1988 and I paid up for it. I also purchased the CD version at some point, in order to save my album. Every time I play this record, it brings me back to the mid 60's at home with my mom , dad, brothers & sisters. This is just a classic Christmas record that has been part of my DNA since the mid 60's and continues to touch & influence me, all these years later.
Track listing:
Side one
1. "Santa Looked a Lot Like Daddy" (Buck Owens, Don Rich) – 2:15
2. "Blue Christmas Lights" (Owens, Red Simpson) – 2:42
3. "Christmas Ain't Christmas Dear Without You" (Owens, Simpson) – 2:21
4. "Jingle Bells" (James Pierpont) – 2:17 (instrumental)
5. "All I Want for Christmas Dear Is You" (Owens, Rich) – 2:14
6. "Santa's Gonna Come in a Stagecoach" (Rich, Simpson) – 2:02
Side two
1. "Christmas Time's A Comin'" (Owens, Simpson) – 1:53
2. "Blue Christmas Tree" (Eddie Miller, Bob Morris) – 2:30
3. "Here Comes Santa Claus Again" (Owens, Simpson) – 2:08
4. "Christmas Morning" (Owens, Rich) – 1:40 (instrumental)
5. "It's Christmas Time for Everyone But Me" (Dixie Dean, Ray King) – 2:15
6.      "Because It's Christmas Time" (Owens, Simpson) – 2:11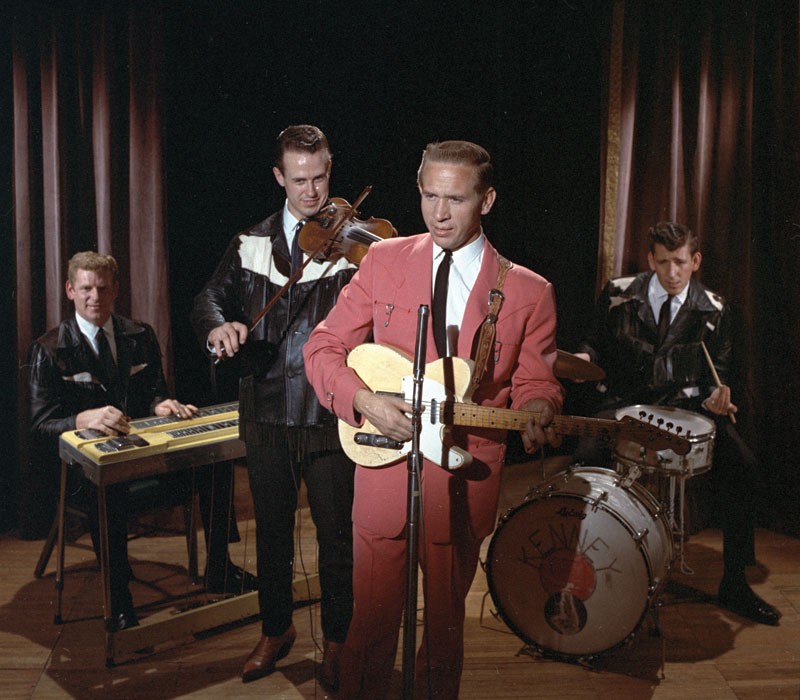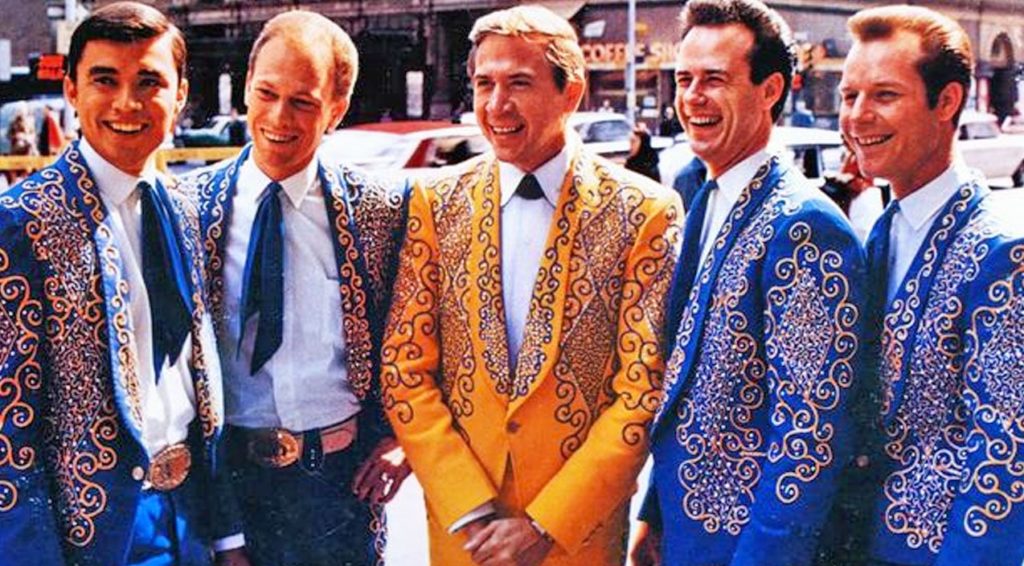 Buck underwent throat cancer surgery in 1993 and was hospitalized with pneumonia in January 1997.
I'll be forever linked to this great music and wicked band as long as I live. Thanks Buck Owens and The Buckaroos for all the great tracks over the years and you'll continue to inspire new musicians and writers for decades to come.
Buck passed away on March 25, 2006, at the age of 76. Rest In Peace.